Trip Info
The "Jordaan"- District

---
Duration
---
Group size
2-8 persons (min 2 adults)
---
Prices
Adults € 27,50- p.p.
Children (age 4-12) € 9,50 p.p.
---
Departure
Subject to availibity:
Monday, Tuesday, Wednesday, Thursday and Fridays at 14.00 pm at the front entrance of the Westerkerk"
( Prinsengracht 281/corner Westermarkt )
---
Reservations
By phone: +31 6 42 53 10 61
The 'Jordaan'-District (17th-19th century)
Alms-houses and Courtyards
This city walk suits everyone who wants to turn away for a moment from the crowded canals, their greatness and tourist population. In the Jordaan-district, just around the corner of the famous canals, you will find courtyards from Alms-houses ( "Hofjes"). Precious little diamonds because of their intimate charm and privacy are waiting for you to be discovered. Some of the restored courtyards are open to the public  but  they are pretty difficult to find. "Hofjes" lie hidden behind doors that look like the front doors to ordinary canal houses .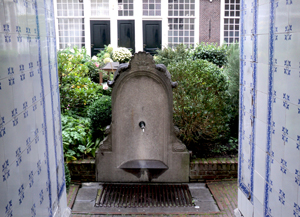 Alms-house: Sint Andrieshofje
Click on one of the images below to enlarge
The Amsterdam system with canals  is the result of careful city planning. After  becoming a large international centre of commerce, a comprehensive plan was created to expand the town based on a pattern of concentric half-circles of canals: Singelgracht, Herengracht, Keizersgracht and Prinsengracht. These canals formed the residential district for the wealthy. The plots of land between the houses along these canals are rectangular in nature and have gardens in the middle.
Expansion Amsterdam
Click on one of the images below to enlarge
However, with the population increasing in the 17th century, expansion was necessary. Building out in diagonal directions  from the four main canals, the Jordaan known as a workers district, became a new concentrated and overcrowded area.
It was common for families with children to be stuffed into tiny rooms. It could be an unpleasant and dirty place to live.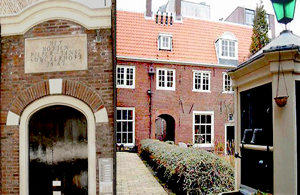 Alms-house: Het Suyckerhofje
Click on one of the images below to enlarge
Up till the 17th century the Catholic Church had provided subsidized housing for the poor and elderly. But when Amsterdam no longer sided with the Spanish King, Catholic churches were forbidden and the faithful worshipped in clandestine churches. At this time rich Protestant merchants, overcome by thoughts of religious charity, took over the role of looking after the poor. They built the "hofjes" or alms-houses, often not at least to their own glory. The courtyards were originally built as free (!) accommodation for poor and aged.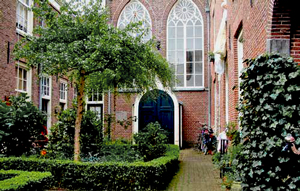 Alms-house:Zevenkeurvorstenhofje photo:www.jordaanweb.nl
Click on one of the images below to enlarge
---
With a qualified historian from History Trips as your personal guide you will visit the Alms-houses and Courtyards. This very special district will be shown to you accompanied by vivid, but historically sound information in a 2-hours walking tour. The programme is flexible and can be adjusted to your own wishes. Groups are never larger than 8 persons (unless by special arrangement) to guarantee a personal touch.
---