Trip Info
Canadian Victory Campaign

---
Duration
---
Group size
---
Prices
---
* Depending on group size and duration.
Departure
Subject to availibity:
every day of the week
---
Booking
N.B. reservations should be made at least 14 days in advance
( but you can always give it a try )
1945, Canadian Victory Campaign
Introduction
There is an undeniable and special relationship between Canada and the Netherlands. This is mainly triggered by the operations of the Canadian Army in 1945. Already in late 1944 the southwestern part of the country was liberated by the Canadians.
Under extreme difficult circumstances they were able to liberate the territory west of Antwerp and successfully cleaned the area north of the Scheldt estuary from German troops.
Apart from the liberation of the province of Zeeland and parts of Brabant, there was a general strategic significance: the port of Antwerp could be used from that moment on for logistical purposes. One of the elementary wishes from Gen. Eisenhower.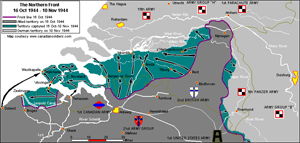 Map Northern Front, www.canadiansoldiers.com
Click on the image to enlarge
In Feb. 1945 the allies regained the offensive after the setback during the winter months. The Canadian forces performed "Operation Veritable", entering Germany itself east from Nijmegen. Holding the northern shoulder of the frontline, it became their objective to liberate that part of the Netherlands north of the river Rhine. The peculiar thing is they were coming from the east, out of Germany.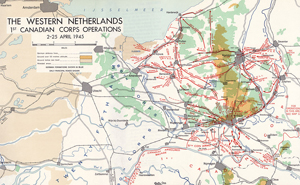 Map The Western Netherlands, www.ibiblio.org
Click on the image to enlarge
When the Dutch recall the days of the liberation, the Canadians are the first to come to their minds. They are our liberators!! This is echoed by the memorials all over the country.
Tour information
This tour focusses on the events in the eastern part of the Netherlands in April and May 1945. The advances of the troops will be illustrated by visiting hotspots of warfare along the IJssel river and the area north of Arnhem. A region with large forests, causing unforeseen problems.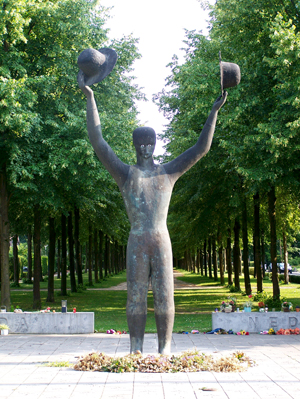 Dutch-Canadian National Monument
|
photo Henk Visch
Click on the image to enlarge
---
The tour starts by paying tribute to the soldiers who were killed in action and have their burial places on the Canadian War Cemetery in Holten. A nice Canadian documentation centre is completing this site. Another important intermezzo is a visit to the Dutch-Canadian National Monument in Apeldoorn with the Dutch part of the twin monument "The man with the two hats" that has its equivalent in Ottawa.
---