Trip Info
1944 Hürtgen Forest Battle

---
Duration
3 or 4 days
(always including a Sunday)
---
Group size
---
Prices
---
* Depending on group size and duration.
Departure
Subject to availibity:
On Saturday or Sunday
Start at Brussels or Amsterdam
---
Topics
Museum at Vossenack
Remains of the Siegfried-Line
Ordensburg Vogelsang
---
Booking
N.B. reservations should be made at least 14 days in advance
( but you can always give it a try )
1944, Hürtgen Forest Battle
Introduction
This is a less-known but very impressive battle during the Allied 1944-autumn offensives in Western Europe. This might be due to the fact that it's closed in by the famous Operation Market Garden and the Battle of the Bulge. It might as well be an unpopular item for American history-writing because of the lack of success and the massive losses.
Given this terrible cost, it seems clear that Maj. Gen. James Gavin (82ND-ABD) might have been correct when he said, "For us the Hürtgen was one of the most costly, most unproductive, and most ill-advised battles that our army has ever fought."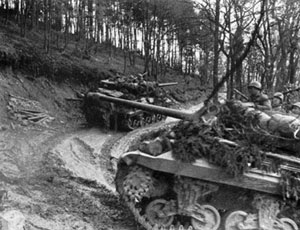 Tanks on the Kall-trail, U.S. Army photo
Click on the image to enlarge
The question is why American Generals like Bradley and Eisenhower chose in November 1944 to send division after division into the dark and foreboding woods right until the start of the German Ardennes offensive that December.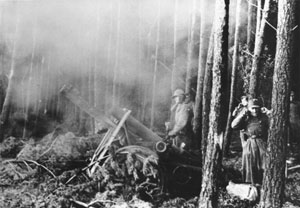 Heavy German infantry gun firing, 22-11-1944 | Bundesarchiv
Click on the image to enlarge
By the time major combat operations in the area finally ceased, six U.S. divisions had been fed into the meat grinder. According to several accounts, the estimated number of casualties is running from 33,000 up to 55,000 men without achieving a breach in the Siegfried Line.
Tour information
This tour focusses on the offensive early November by the "Bloody Buckets" 28th Infantry Division during the so-called "All Souls-Battle" in the sector of the villages Hürtgen and Vossenack.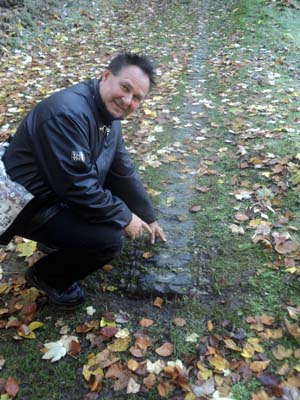 Traces of the war in the Hürtgen Forest | photo © History Trips
Click on the image to enlarge
---
We will follow the trail from the bloody attack and retreat at Schmidt. Included are visits to: the museum at Vossenack, remains of the Siegfried-Line ( pillboxes, dragon teeth fields ), memorials as well as German and Russian cemeteries.
Special feature is the visit to "Vogelsang" nearby Vossenack. This completely preserved estate was used by the Nazi's between 1936 and 1939 as an educational center for future Nazi leaders. After the war it played a role in the Cold War affaires. It is one of the largest remaining architectural relics of National Socialism.
---