Trip Info
Bruges

---
Duration
---
Group size
---
Prices
---
* The excursion fee includes:
- Transport from Amsterdam to Bruges (Belgium) v.v.
(Contact us to discuss the possibility of other pick-up points if so required);
- A qualified historian as your personal guide throughout the day;
- Visit to the main sites of town (see Topics);
- Entry to museums.

Not included:
- Meals.

Departure
Subject to availibity:
Every day of the week except for Mondays
---
Topics
Gothic hall
Renaissance hall
Mausoleum Maria and Charles the Bold
St. Jeans hospital
OLV church
Holy Blood basilica
---
Booking
N.B. reservations should be made at least 14 days in advance
( but you can always give it a try )
Bruges, a day in the Middle Ages
In the 11th century security is increasing in Europe. Raids by Danes, Magyars and Saracens are coming to an end. Since the backlash caused by the fall of the Roman Empire, international trade is flourishing again. As a result, towns are growing and become more important as well as their inhabitants. Towns are the place to be when it comes to industry by craft guilds and commerce. The prosperity of towns leads to an increasing role in politics and importance of town councils. They become a power between nobility (dominating the country) and sovereigns.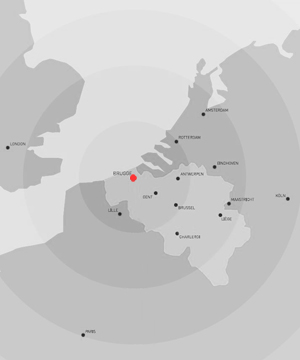 Geographical position of Bruges
Click on the image to enlarge
The geographical position of Bruges is favouring the town. It's a member of the Hanseatic League, the most important trade-community of towns in North-western Europe at that time. It's position is with the face pointing to England and Bruges becomes a centre of banking houses as well as a marketplace of goods brought by South-European merchants.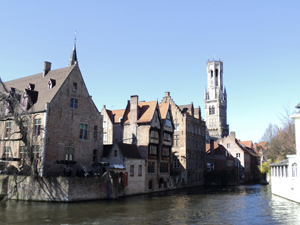 Bruges | in the background the Belfort
Click on the image to enlarge
Bruges, with its canals, is also known as the Venice of the north. In the Middle Ages it was one of the most important merchant-town of North-Western Europe, therefore it was a desirable town  for noble dynasties like the Dukes of Burgundy or the Kings of France to get it under their jurisdiction.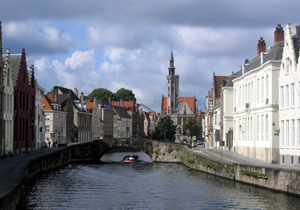 Spinolarei and Spiegelrei - Bruges
Click on the image to enlarge
There is no place in this region of Europe where you can better taste the atmosphere of  medieval life. Walking through Bruges really means plunging into history.  
---
With a qualified historian from History Trips as your personal guide, all the highlights of this picturesque town will be shown to you accompanied by vivid, but historically sound information. This programme is flexible and can be adjusted to your own wishes.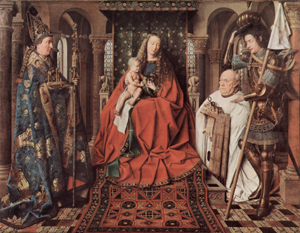 Jan Van Eyck | Groeninge-museum
Click on the image to enlarge
For example, we can take time to visit "Groeninge-museum" with its famous 15th and 16th century paintings from Memling, van Eyck and Bosch.
---