Trip Info
Castle tour

---
Duration
---
Group size
---
Prices
---
* The excursion fee includes:
- Transport from Amsterdam to the castles
(Contact us to discuss the possibility of other pick-up points if so required);
- A qualified historian as your personal guide throughout the day;
- Entry to museums.

Not included:
- Meals.
Departure
Subject to availibity:
Every day of the week except for Mondays and Saturdays
---
Topics
castle Muiderslot in combination with
castle Loevestein, Haarzuilens or Doorwerth
---
Booking
N.B. reservations should be made at least 14 days in advance
( but you can always give it a try )
a day in the Middle Ages - the castle tour
This Tour is most exciting to visitors who want to make acquaintance with the medieval past of Europe. It goes without saying that others, taking an interest in more local aspects of medieval history, can enjoy a colourful Trip as well.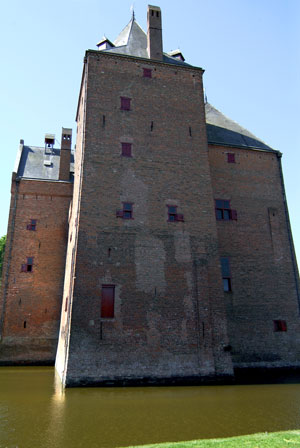 Castle Loevestein [ photo Odile Lemstra ]
Click on the image to enlarge
This Tour is all about the times that Europe was dominated by the nobility. After the fall of the Roman Empire, Europe became the theatre of political, economic and social backlash. Great migrations of tribes, growing social insecurity, detoriation of trade and the loss of the monetary system gave way to a new social order. It was characterized by agriculture-based military power (benificium). In this way these knights were secured of income, could afford to practise battle skills and get a valuable armoury and horses.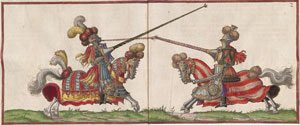 Paulusm Hector Mair Tjost
Click on the image to enlarge
In return the knights became "vassals" by swearing an oath of loyalty to the feudal Lord.
This meant that they had to perform military service in times of war (auxilium) and be available to the court for advice (consilium).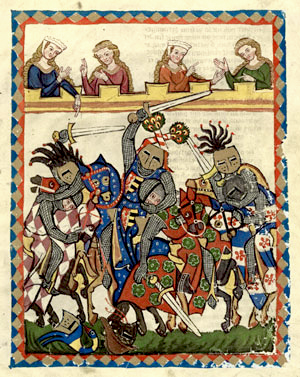 Codex Manesse Herzog von Anhalt
Click on the image to enlarge
From these days on a history of castle building unfolds. These strongholds were the homes and base of protection for knights. In the early Middle Ages many knights rallied for  more regional power and fought little wars against each other.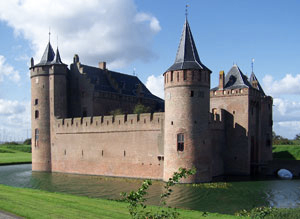 Castle Muiderslot
Click on the image to enlarge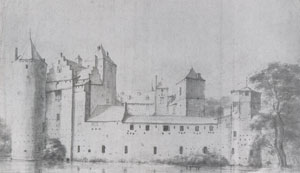 Castle De Haar, around 1646. Drawing by Roghman
Click on the image to enlarge
At the end of the Middle Ages the castles started to serve, at least those in possession of greater vassals, as places of courtly  (chivalrous) life.
On this Tour you will visit two large castles in the Dutch countryside ( Muiderslot in combination with Loevestein, Haarzuilens or Doorwerth).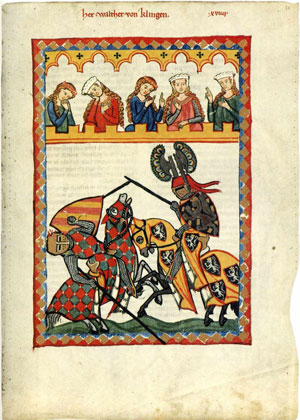 Codex Manesse Walter von Klingen
Click on the image to enlarge
The first two castles played a significant role in Dutch history and are beautiful examples for tasting the atmosphere of medieval life.
A qualified historian from History Trips will be your personal guide on this trip into the past and will give you all the ins and outs with vivid, but historically sound information. This programme is flexible and can be adjusted to your own wishes.
---