Trip Info
Ypres

---
Duration
one "long" day-trip possible
---
Group size
---
Prices
---
* The excursion fee includes:
- Transport from Amsterdam to Ypres (Belgium) v.v.
(Contact us to discuss the possibility of other pick-up points if so required);
- Hotel accommodation (including breakfast) for one night ( two days, suppl. 1p-bedroom €35);
- A personal guide on both days;
- Visit to main sites of the battlefield (see Topics);
- Entry to Flanders Field Museum and Hill 62-museum.

Not included:
- Meals.
(Please contact us for any specific arrangements)
Departure
Subject to availibity:
Every day of the week except for Sundays and Mondays
---
Topics
Diksmuide
Tyne Cot and Vladslo (cemeteries)
Last post at Ieper
Hill 60
Hill 62
Flanders Field museum
Hill 62-museum
---
Booking
N.B. reservations should be made at least 14 days in advance
( but you can always give it a try )
The Battlefields of World War I, Ypres
The year 1914 showed the outburst of an international war as never seen before. Very peculiar was the fact that on one hand everyone could foresee war was coming up and on the other hand a great majority was enthusiastic about it.
The origins of this state of being are connected to the developments in Europe in the 19th century. In the second half of this Age the continent industrialized and initiated a run for raw materials as well as a competition to get colonies. New states like Germany and Italy gave birth to Nationalism and old monarchies like Austria saw the rise of separatism and wishes for self-determination of ethnic minorities. The enormous and quick changes in society, e.g. industrialization, massification, nationalism and colonialism, led to an arms race amongst European powers. In the beginning of the 20th century two great alliances of powers came to existence. It was waiting for the spark to let the firework start in 1914.
World War I was the first modern war with the use of planes, tanks, gas attacks etc. Military strategy was not ready for these options which led to a massacre amongst soldiers on both sides of the front line. In Belgium and France this front line stayed nearly in the same place for 4 years. Enthusiasm amongst the people turned into despair.
This trip is about the madness of this war and will be shown by visiting main sites along the former trenches. With a qualified historian from History Trips as your personal guide you will gain insight into the causes and consequences of the war and you will also get an idea of what life was like for the soldiers involved in the combat.
In two days we will visit remaining trenches on the former battleground at Diksmuide and Hill 62, huge craters caused by bombardments, military cemeteries and museums.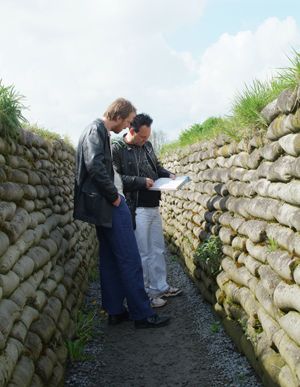 Trenches of Death Diksmuide (History Trip - Ypres)
Click on the image to enlarge
At the end of the day we will return to Holland.